The Bucketlist Bombshells has been a passion project of ours for a few years now and it's been the most exciting process to see this dream come to life! In a nutshell, we are the creators of The Work Online + Travel the World Course – a 6-week interactive online course teaching new graduates how to build an online business giving them the freedom to travel the world! (yes, at the same time!)
As we're coming up on our third official course launch, we thought it'd be fun to take you behind-the-scenes of creating, launching and promoting our online course (click here to learn about The Blissful Product Launch package to rock your next launch).
We're also giving you some of our best advice, tips and tricks for creating and launching your very own course.
Trust us – there's so many elements and pieces that go into a successful product launch (psst! it's not all pretty Instagram photos & sassy newsletters) as much as we'd all like to think it is.
It's a carefully executed process – and guess what? We're going to share it with you today! So let's get started.
Step 1: Branding
---
If we can just toot our own horn for a second here, we're constantly receiving praise for our beautiful branding that we created from scratch with so much love and detail.
It's so important to realize that your course branding is just as important as all of the technical bits of the course. Your branding is what initially attracts your customers, draws them in, builds trust and reflects your unique brand personality. It's also crucial to note here that less is more. Yep – you heard that right. Your branding should simply complement your content, not distract from it.
Every online product/course should have an:
Eye-catching course logo
Beautiful color palette
Complementary fonts
An overall consistent brand tone & presence
For The Work Online + Travel the World Course, it's extremely important to us that our branding is fresh, modern, with a bit of sass and pops of color to appeal to our audience of 20 & 30-somethings. We love the mix of the soft teal combined with black and grey to give our brand a hint of edge while still being playful and inviting.
Here's the course logo we use on all materials…

Once the branding is set, the branding elements can easily be integrated into the rest of the process (i.e. landing pages, sales pages, newsletter templates etc.) to give everything consistency and a beautiful cohesive look.
Step 2: Marketing Strategy & Funnel Set-up
---
The next step in the process is to begin coming up with your marketing strategy and setting up your funnels to attract those customers!
We know this part can be a bit of a headache and you're probably thinking, "Should I use Leadpages or ConvertKit? How do I send my amazing free offer? Where should I setup my sales page? How do I collect payments?" and the list goes on and on.
By the way, if that's literally what you're thinking, click here to learn about how we can help you rock your next launch!
So let's break it down in super simple bite-size pieces.
Every online product/course launch should have an amazing:
Free offer
Landing page
Sales page
Having a strategic marketing strategy and funnel in place is so crucial to the success of your launch! If not, how else are you going to get those customers in the door?
Your Free Offer
Your "free offer" is an amazing, FREE piece of content that you're giving away to show your expertise in your field, provide actionable tips/advice/results so that when a potential customer sees it, they can't wait to see what your PAID content looks like if this is just the free stuff!
While there are so many different types of free offers you can provide, we created a 3-part video series to attract our audience with a branded digital workbook for them to follow along.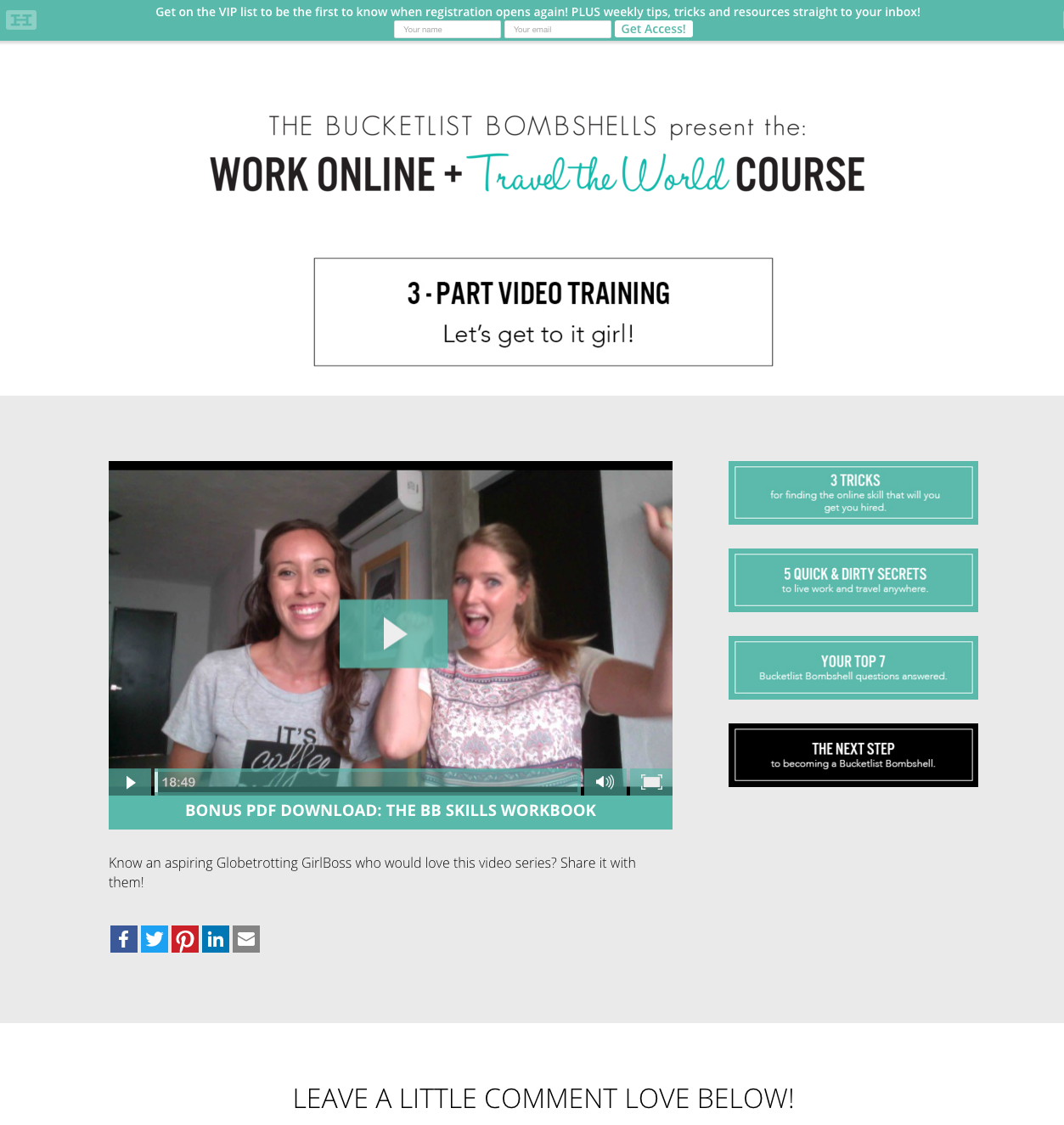 So how does our audience get this amazing free offer?
Landing Page
You guessed it – the landing page. Your landing page is a one-page website that tells your audience more about your online product/course.
Every online product/course landing page should explain:
The What (what is your online product/course?)
The Why (why should someone purchase it?)
The Who (who is your product for?)
The Details (what is included inside the course?)
The Reviews (what are your past customers saying about it?)
Apart from those basic elements of your landing page, it should also include clear CTA's (call-to-action) buttons while promoting your free offer explained in detail above.

The Sales Page
This is the meat and potatoes of your marketing strategy. Essentially all of the pieces above are leading to this one page that is going to knock your potential customers socks off! You've enticed them with your landing page, you've gotten them hooked with your free offer, and now you're giving them the very opportunity they've been waiting for – the chance to purchase.
Your sales page is your landing page in much more detail. It's filled with copy that speaks directly to your audience, addresses their pain points and convinces them, by the very end, to hit that "Buy Now" button.
We're not going to dive into every must-have piece of a rockin' sales page right now, but you can enter your details below to get your hands on our proven sales page template for your product or course.
Here's a peek at The Bucketlist Bombshells sales page…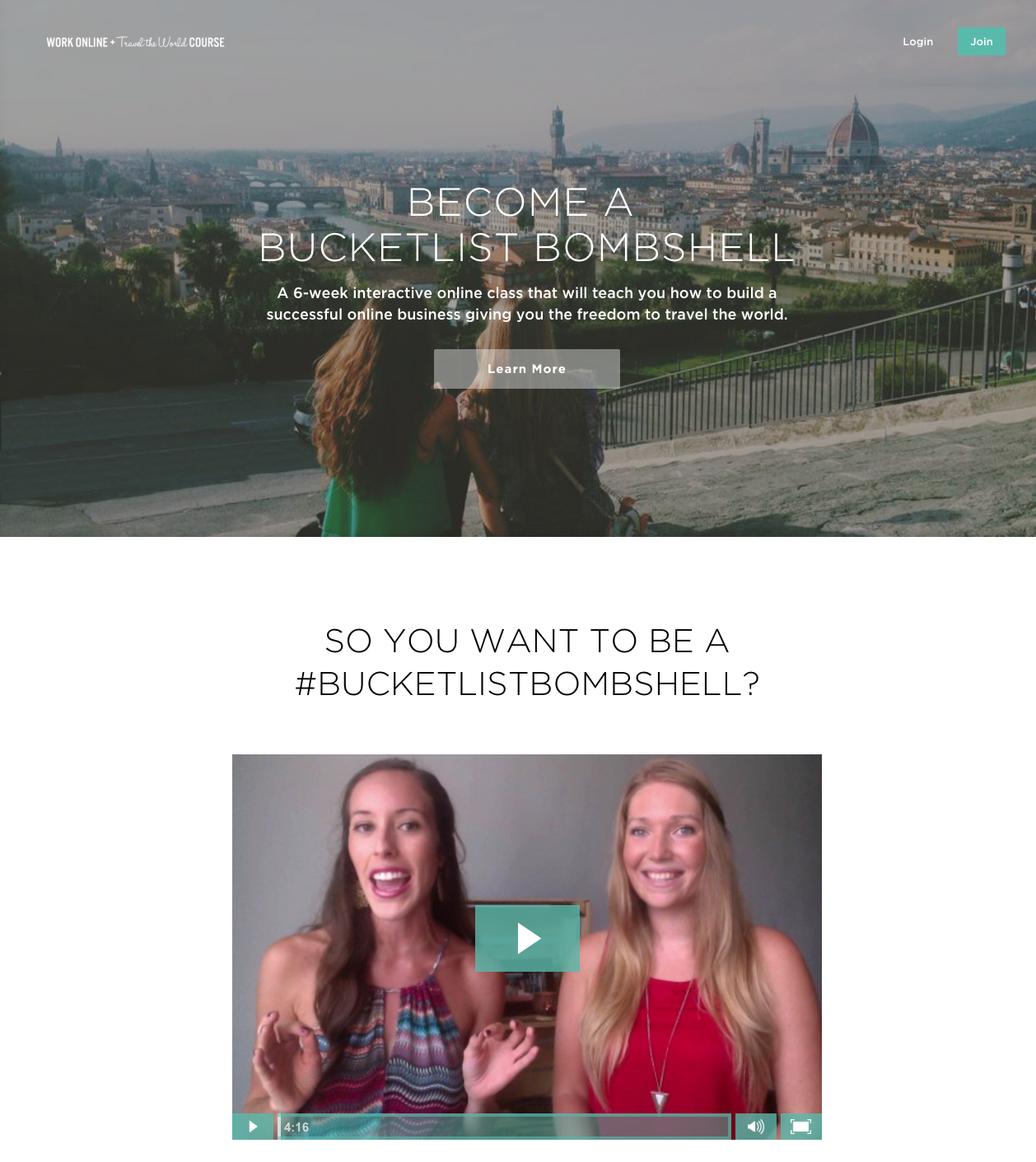 Step 3: Course Creation
---
You didn't forget about actually creating the course now did you? All jokes aside – get ready to exude a whole lot of brainpower!
Our number one tip in creating your course is…drumroll please…get organized! Start by outlining your course modules and getting all of your content down on paper. Once you have all of the course content ready, now it's time to set-up your membership site, design the "inside" of the course and all of the additional materials.
As we mentioned in the beginning, it's important to have all of these items designed with your branding in mind!
Now to the technical bits: creating a functioning and automated membership site (i.e. setting up payment gateways, automatic welcome & login emails, integrating all of your necessary plugins/platforms etc.)
If that technical bit is giving you minor (or major) course anxiety – let us do all of the dirty work for you! Click here to learn more about The Blissful Product Launch.
Here's a sneak peek into the backend of our course:
As part of the course, we offer a handful of seriously amazing bonuses to our students, one of which is "The Ultimate BB Workbook" – a 20+ page interactive digital workbook with action steps and exercises to keep them motivated and on track.
Here's a sneak peek at it…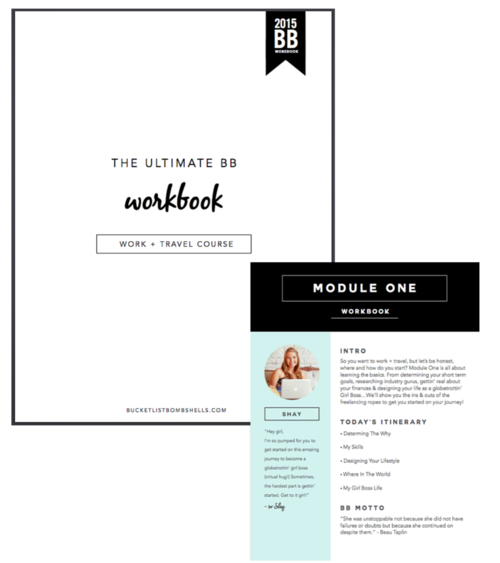 Step 4: Promotions
---
Don't worry…we're almost there!
The next step is to start promoting your online product/course to the world!
For promoting the first two launches of The Work Online + Travel the World Course, our main strategies for promotion were:
The BB Insider Newsletter (Email Marketing)
Your email list is your golden ticket here. They are your potential customers, fans and groupies, and you should be personally talking to them on a consistent basis. As your course launch approaches, this is where you want to "plug" your product/course.
For our brand, our weekly newsletter always offers up a kick of motivation, amazing finds, resources & tips to rock it as a globetrotting Girl Boss. Our community absolutely loves these weekly emails!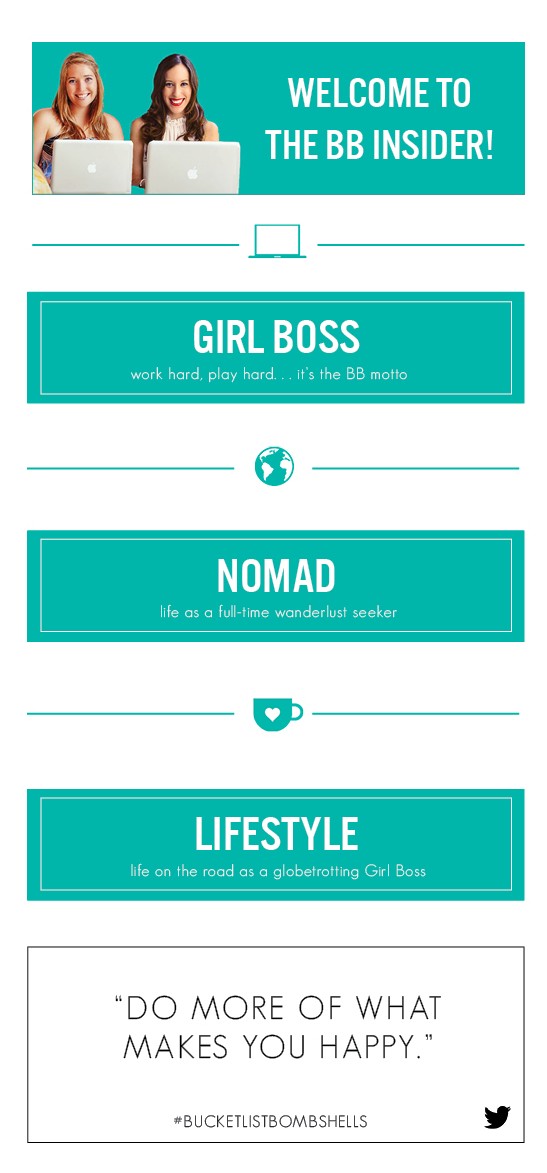 Blogging Collaborations (Guest posting on popular websites/blogs)
Find out what websites and blogs your audience is reading and to put it simply, get on them. Many sites will offer the opportunity for guest blog posts – and it's a great chance to get your content in front of a large audience.
We're contributors to Elite Daily, an extremely popular blog for 20s and 30s, and our featured articles have been shared over 40,000 times!
As part of our very first launch, we ran an amazing giveaway contest for "The Ultimate #BucketlistBombshell Travel Kit" to entice more subscribers to sign up for our mailing list.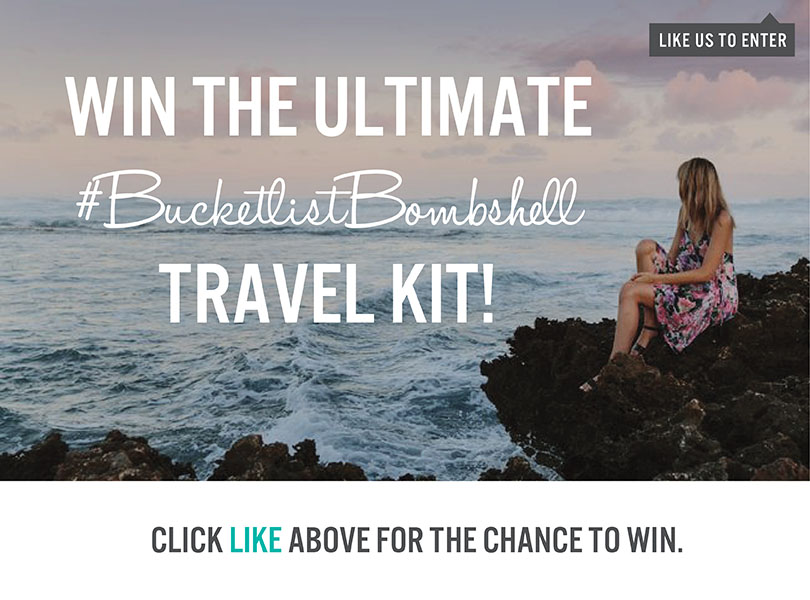 During the launch (while the cart is open), it's important to be speaking to your audience at least every other day via email. This is where you want to address their pain points, explain the stellar success/results you've seen, provide testimonials etc. These, of course, all link to your sales page.
Although it's very difficult to organically reach your audience via social media, it's important to be consistently posting throughout your launch. Our primary social media focus was on Instagram (our brand is very image based) and Facebook – create branded graphics to promote your free offer, your product/course in general and mix in other fun posts.
Step 5: Enjoy your community!
---
And last but not least, after your cart-closes, enjoy your community! Launching a course or product is such an exciting venture – especially when you have the process nailed down.
If you're in the process of launching a product or course, click here to learn about how we can help you rock your next launch!