We're so excited to share with you one of our latest product launches (just in time for Spring!)
Sally Clinton is the creator and guide behind the amazing Reset + Thrive Spring Detox & Cleanse Program: A 10-day Spring Detox & Cleanse Customized for Your Body & Soul!
She came to us wanting a branding refresh for her program, marketing guidance and a webinar funnel for her next big program launch.
Today we're taking you behind-the-scenes of our Blissful Product Launch Package and showing you how all of the bits and pieces come together!
So, let's get started.
Step 1: Branding
---
As we really love to stress to all of our clients, it's extremely important that your branding reflects the quality of your product or program. Along the same lines, having a clear and captivating logo and title is key in immediately drawing the attention of your audience.
For Sally's spring cleanse program branding, we wanted to draw inspiration from the ideals behind the "Spring" season – a season of reflecting, refocusing, revival and thriving.
We came up with the title "Reset + Thrive" to give her program name a bit of life.
As for color palettes, we went with vibrant color palettes to speak to the energy of the spring cleanse and complement the "food" aspect of the program. We designed a "Mini Branding Board" to use as a foundation for the rest of the launch!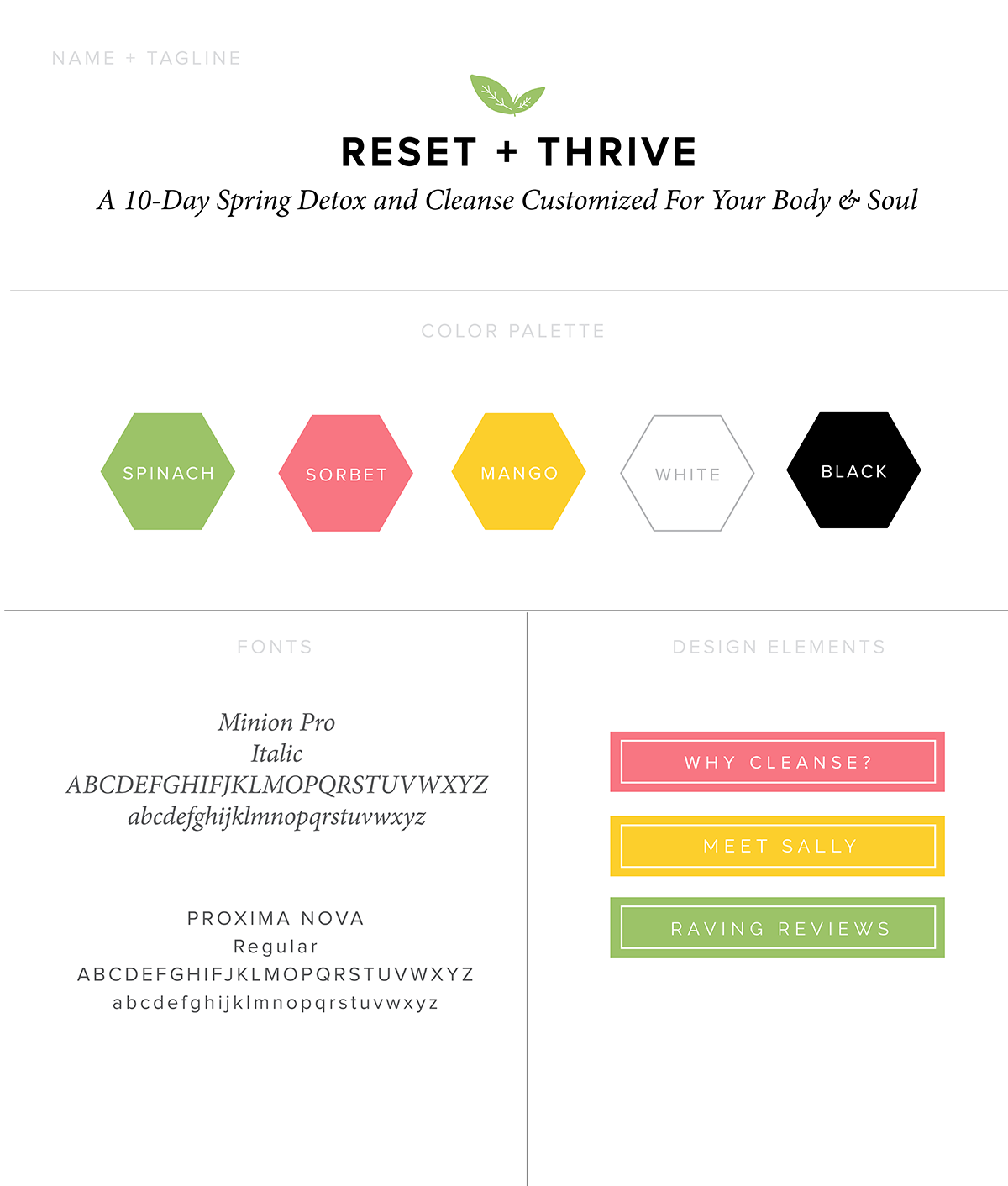 Step 2: Marketing Strategy & Funnel Set-up
---
The next step is to begin strategizing a marketing plan and setting up your funnels to start attracting your customers! If marketing strategies and funnels give you a straight up headache – click here to learn more about how we can help you launch your next product launch!
Our marketing strategy for the cleanse included the following:
Free Webinar:
Webinars are a fantastic way to get potential customers onto your mailing list. They're also the perfect opportunity to provide some amazing free content and pitch your course or product at the very end. Sally's webinar topic was "How to Choose the Perfect Cleanse for You!". As part of the webinar strategy, she offered a free bonus (a mini 3-class program), if they purchased one hour after the webinar.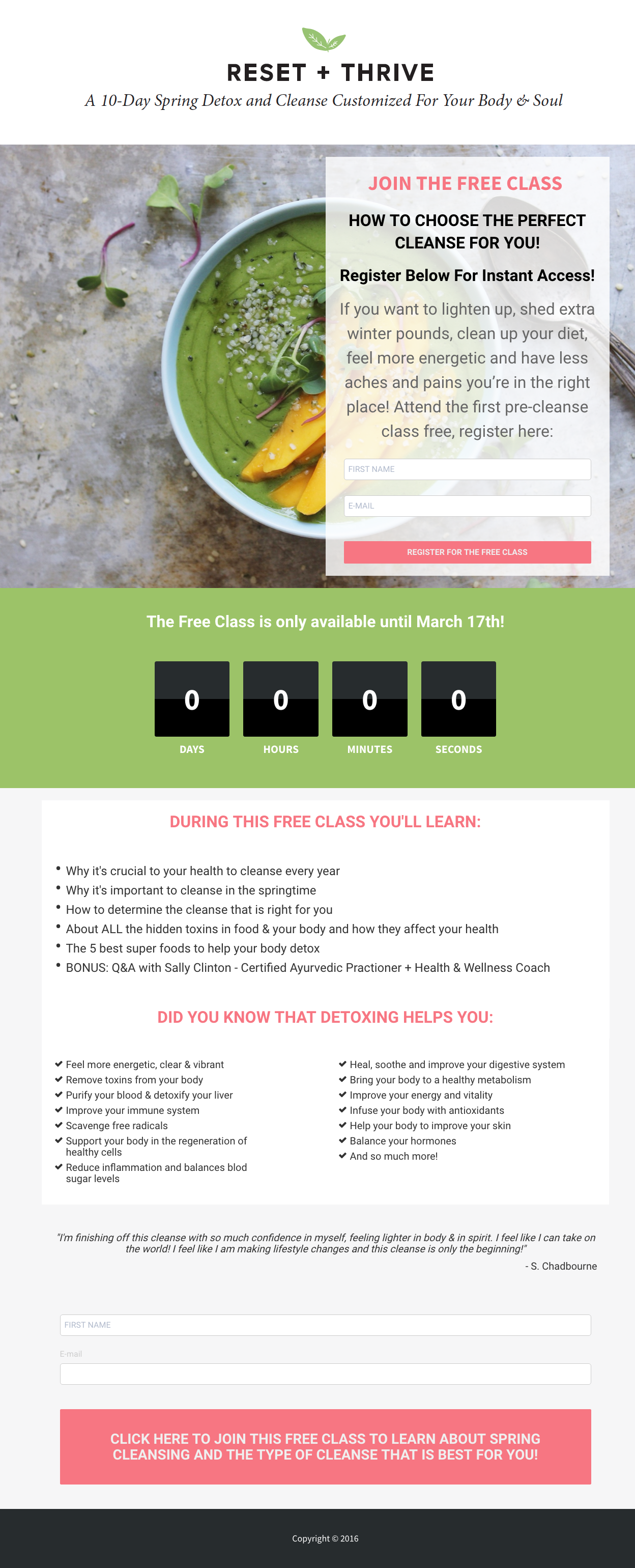 Facebook & Pinterest Ads:
We had ads running on Facebook and Pinterest linking directly to the webinar page and after the webinar, directly to the sales page.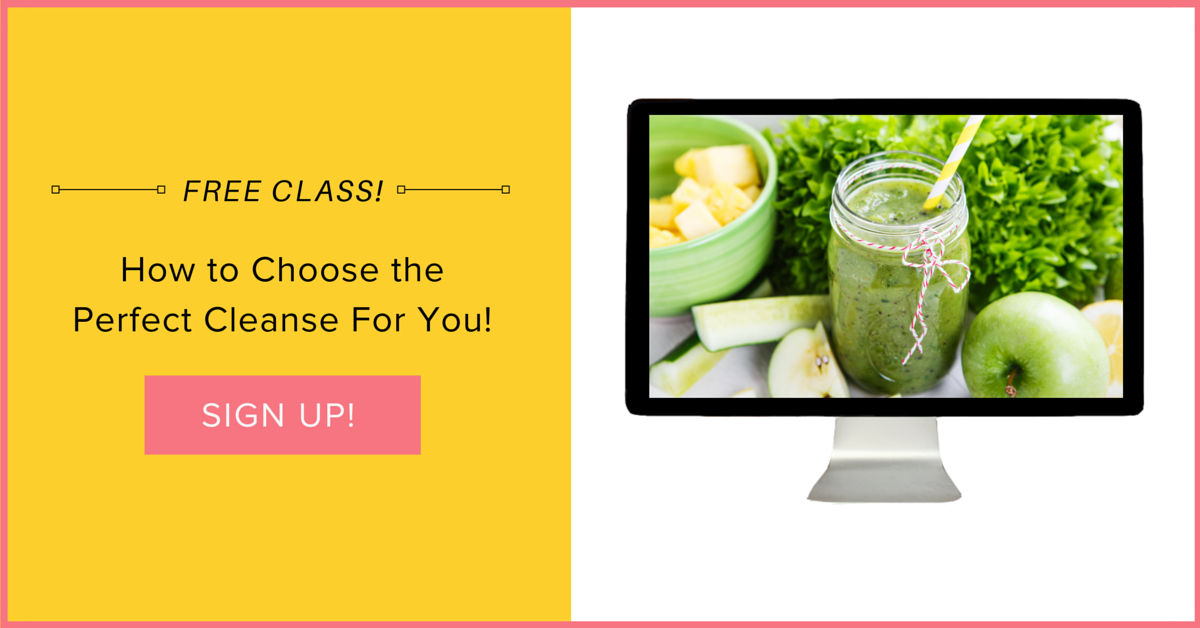 Sales Page:
As part of the package, we completely revamped the old Spring Cleanse sales page by giving it new, updated branding, adding "sales" copy and restructuring the page with our proven sales page template.

Want to get your hands on our proven sales page template? Enter your details below!
Step 3: Course Creation
---
The next step in the process is updating all of the course materials to reflect the new branding. As this was a pre-existing course and all of the materials were already created, we gave a fresh new look to the Spring Cleanse Package, Menu Planner, Routine Checklist, Shopping Guide and more!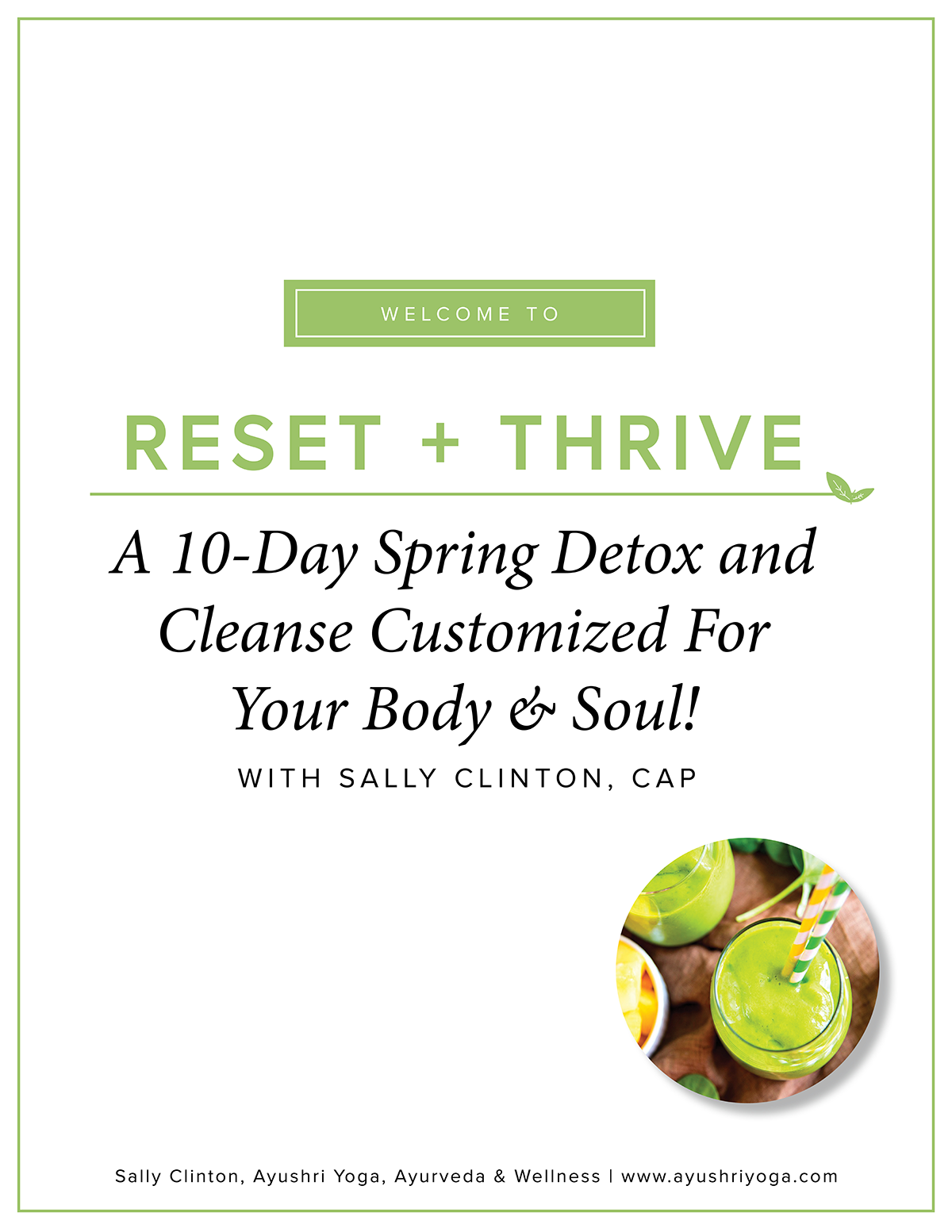 Step 4: Rock your launch!
---
And last but not least, it's time to rock your launch! Launching and even re-launching a product, program or course is such an exciting venture. It's even that much more exciting when you have a streamlined process in place to collect those emails and drive those sales! If you're ready to take your product launch to the next level, check out our Blissful Biz Product Launch package.